According to the guys at Fairfield Academy, there are two types of girls: the kind you hook up with, and the kind you're friends with. Seventeen-year-old Alyssa Reed is the second type. And she hates it. With just one year left to change her rank, she devises a plan to become the first type by homecoming, and she sets her sights on the perfect date—Justin Carter, Fairfield Academy's biggest hottie and most notorious player.
With 57 days until the dance, Aly launches Operation Sex Appeal and sheds her tomboy image. The only thing left is for Justin actually to notice her. Enter best friend Brandon Taylor, the school's second biggest hottie, and now Aly's pretend boyfriend. With his help, elevating from "funny friend" to "tempting vixen" is only a matter of time.
But when everything goes according to plan, the inevitable "break up" leaves their friendship in shambles, and Aly and Brandon with feelings they can't explain. And the fake couple discovers pretending can sometimes cost you the one thing you never expected to want.
Buy at
Award-winning and Bestselling author Rachel Harris writes humorous love stories about sassy girls next door and the hot guys that make them swoon. Emotion, vibrant settings, and strong relationships are a staple in each of her books...and kissing. Lots of kissing.
An admitted Diet Mountain Dew addict and homeschool mom, she gets through each day by laughing at herself, hugging her kids, and watching way too much Food Network with her husband. She writes young adult, new adult, and adult romance, and LOVES talking with readers.
...................................................................................................................................................
My Review
"The Art of Pretending" is a YA novel set in a present day high school. Our main character, Alyssa Reed, is entering her senior year and has decided she is tired of being invisible and enlists her girl-friends to help her with what she deems as
Opportation Sex Appeal
. New clothes, new hair and new make-up in tow she secretly sets her sights on getting the most popular boy in school, Justin Carter, to ask her to homecoming.
Her best friend, Brandon Taylor, hears of her mission and tries to convince Aly this is all a stupid idea and she doesn't need to change because Justin isn't worth her effort. But no matter how hard he tries he only ends up solidifying her ambition. In last ditch effort, Brandon agrees to pretend to be Aly's boyfriend to protect her from herself and the scrutiny of others.
In the midst of all her planning and scheming, Aly never intended to get hurt, break hearts, and find herself all in 6 weeks. Entertaining, lighthearted, and naive are all words I would use to describe this book. Rachel Harris writes an excellent young adult novel all tied up with a perfect ending. This book walks the line between juvenile and young adult literature because it borrows the level of emotional depth of a juvenile reader, but describes the situations a young adult may encounter. I would recommend this book for the newer young adult, but a more mature individual in this age range may find it a little lacking.
My only complaint is the extreme level of innocence portrayed throughout the book. While there is under aged drinking, some language and suggestion of sex, the extreme portrayal of Aly's purity is a bit much. If Aly had said "Holy Canoli" one more time in this book, I'm was going to rip my e-reader apart! Is she 12?!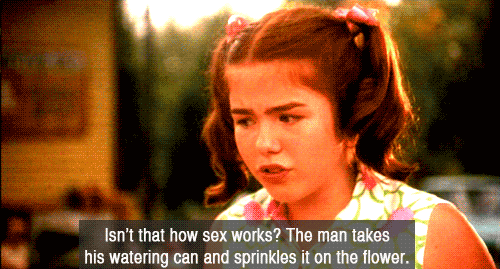 I just kept envisioning Chrissy's face from Now and Then saying "Holy Canoli!" (The sweetness in this giph makes me want to cry!) There is no way this senior in high school is ready for the real world that awaits.
This is what I envision: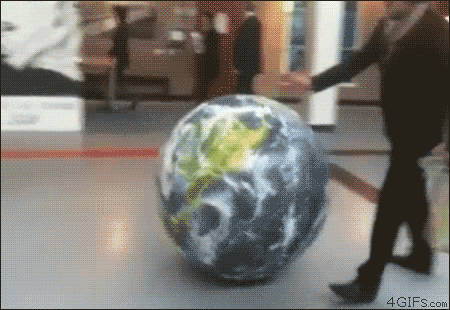 I want to say a special thank you to this
ball for looking like planet Earth
...without it this gif would lose all symbology and make me an ass.
-JL
Don't forget the Rachel Harris is Giving Away a signed copy of "The Art of Pretending," Poster AND a Handmade Ribbon Board!!
Enter
B

elow!
Another thank you to